14 Jun 2021
Great opening game for Spain against Kazakhstan!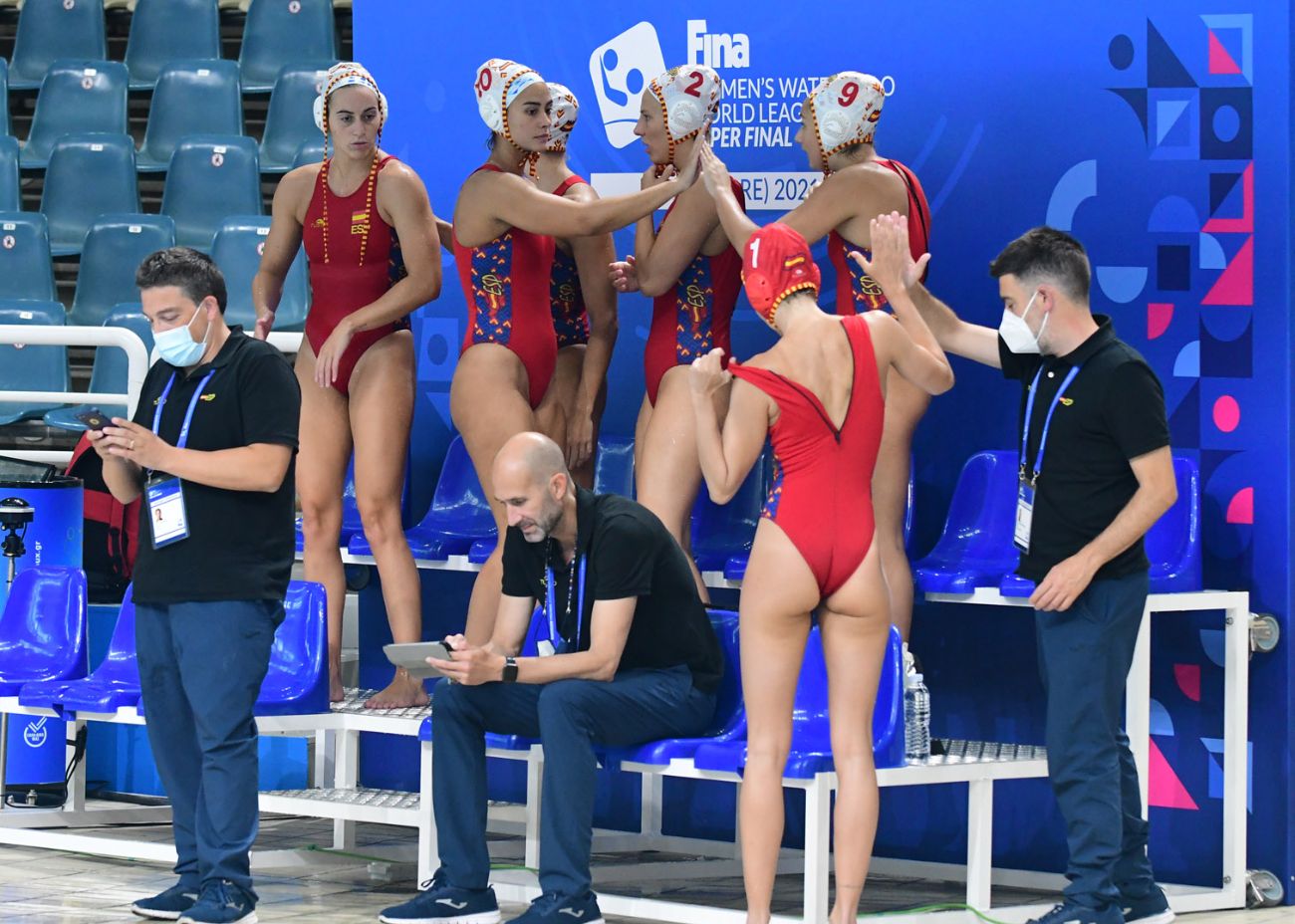 The long-awaited premiere of the Super Final of the World League took place on Monday at the renovated and beautiful Olympic swimming pool of Athens (O.A.K.A), with Spain's first match against Kazakhstan.
History between the two rivals allowed the prediction that Spain would be the favorite of the match and this was confirmed in the water, with Miki Oca's team taking the victory with 20-11.

The first eight minutes of the match (5-5) were impressive as Kazakhstan entered the game very dynamically and surprised Spain with their offensive efficiency (5/6 shots on goal).

But then Spain improved their defense a lot, in combination with Esther entering under the posts only for 2nd quarter and led 12-6 in the second period. The rest of the game was a great "show" from Spain, which won the game with a score of 20-11. Top player of the match was Paola Crespi who scored three goals and played also as a center forward.

Periods: 5-5, 7-1, 2-0, 6-5

SPAIN (Miki Oca): Ester, Bach, Espar Anna 2, Ortiz 3, Tarrago 3, Gongalez 2, Espar Clara, Ruiz 1, Forca 2, Crespi 3, Aznar 3, Leiton 1, Sanchez.

KAZAKHSTAN (Naurazbekov Marat): Zharkimbayeva, Pochinok 1, Glukhova, Turova 4, Yeremina 2, Roga 3, Novikova, Muravyeva, Shapovalova, Khritankova 1, Anossova, Murataliyeva, Kolesnichenko.

Miki Oca (Spain national team coach):
"We had a very unfortunate start to the game. We conceded several dismissals and many goals (5-5 in the first eight minutes). Then we reacted and put things in perspective. My team's goal is to reach the semifinals and claim a medal. Spain may not have won gold in this tournament yet, but whatever the color of the medal is, it will be welcomed".
Paula Crespi (best player of the match):

"We came to Athens to claim the gold medal. We will fight for this goal. The priority, of course, is the Olympic Games in Tokyo, where our main goal is to get the gold medal, but let's start with Athens. All the teams are very good and our role is extremely difficult".
Marat Naurazbekov (Kazakhstan National Team Coach):
"We are a young team and we came to Athens to gain great experiences. We will play against the best teams in the world, such as USA, Spain and Greece. Kazakhstan's main goal is to qualify, through the games of the Asian Continent, for the 2022 World Cup that will be held in Fukuoka. Three teams will qualify and we want to be ready to achieve this goal."